Be anxious for nothing but in all things through prayer and supplication make your petitions known unto the Lord. Philippians 4:6
Letís face it every woman wants a good man. And if sheís a Christian woman she wants a man who loves and fears the Lord. But when you add children to the equation you are left with women who feel forced to do and accept anything just to have a warm body. This however is not how God intended it to be.
Instead God encourages us to develop a relationship with Him. ďSeek ye first the kingdom of God and all His righteousness and all these things will be added unto you. Matthew 6:33. This includes a mate.
You see, we spend a lot of time preparing for the wedding and practically no time at all preparing for the marriage. Understand that in your singleness is a time for growth and fellowship with the Father. Itís a time for you to gain wisdom and understanding of His ideal for marriage. God canít send you your Boaz if you are not prepared to be a Ruth.
When you have a personal relationship with God he knows the desires of your heart and is willing and capable of fulfilling those desires. But, you must be ready.
Donít be anxious for a mate. Allow God to work on you and prepare you for the destiny He has designed for your life. Let Him build you up and prepare you for your future. Donít get caught up in your timing but wait instead on Godís perfect timing. Donít just jump at every pair of pants you see. Ask God for discernment in your choice for a mate. Allow Him to answer you understanding that if your future mate is a man of God he will be willing to wait according to Godís perfect will. Heíll respect and honor you as he too seeks to live out the commands that God has placed before Him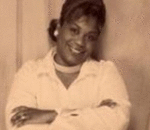 Posted By: Cheryl Lacey-Donovan
Friday, May 8th 2009 at 12:17PM
You can also
click here to view all posts by this author...