In a time when teen pregnancy is on the rise once more and single mothers are being blamed for all of societies problems, Cheryl Lacey Donovan presents a view of single motherhood that tears down all the excuses for why single mother's can't succeed.
Cheryl Donovan shares her valuable insight into the spiritual and biblical principles associated with being a good mother.
A former single mother herself, Cheryl shows readers that through the abundance of God's grace and love along with determination and perseverance, children don't have to become statistics.
Cheryl identifies key biblical principles and displays practical life lessons that can help to establish solid foundations upon which to rear happy, well rounded, productive children.
"Using your manual, the BIble, according to Cheryl, is key to raising Godly children"
According to Cheryl, "There's a war going on. The spoils of war are our children's bodies, souls, and spirits."
Cheryl states, "Mother is a verb. It's something you do not just who you are. Being a mother can't be seen as a life of unbearable drudgery. Yes, it requires hard work, but what doesn't. The tears, the sacrifices, and the dreams deferred are all worth it in the long run."
Cheryl provides insight the will assist the reader to look inside themselves for change. It will help them identify the strongholds of poverty, lack of education, and abusive relationships and help them tear them down with the help of the creator.
Cheryl's powerful testimony about her journey from teen pregnancy, domestic violence, and single parenting, to award winning author, educator, and inspirational speaker is sure to empower, enlighten, and inspire mothers everywhere.
The book will be released May 1, 2009 just in time for Mother's Day. To purchase a copy of Cheryl's new book visit
www.peaceinthestormpublishing.com.
To learn more about Cheryl or to have her speak at your next event visit
www.cheryllaceydonovan.com
# # #
About the author
Cheryl Lacey Donovan is a native Houstonian who is walking in her destiny. An anointed woman of God, her mission is to challenge you to look inside yourself for change, to identify the strongholds in your life, and to tear them down with the help of the creator. Once you have crossed her path, your life will never be the same.
Cheryl Lacey-Donovan is an acclaimed author, educator, inspirational speaker and compelling advocate for personal empowerment. Her new work The Ministry of Motherhood is destined for the bestseller list as it ministers to mothers who are living through what Cheryl has already overcome.
Cheryl believes in the Psalms 11:25 which says, She who refreshes others will herself be refreshed; therefore, she tries to be transparent as she speaks and writes about her valley to mountain experiences.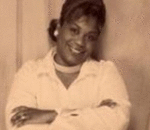 Posted By: Cheryl Lacey-Donovan
Thursday, May 7th 2009 at 7:47PM
You can also
click here to view all posts by this author...